RedAlert PT work closely with other companies to offer our clients some special deals.
20% of all purchases of Sundried clothing using code REDALERT
Sundried is a brand and collective delivering technical performance and style to athletes who push themselves to reach their physical peak. Who live and breathe fitness as if it were as intrinsic to their everyday existence as oxygen and water. Each linked to each other through the apparel that enables them to achieve whilst looking their best. Inspired by the raw elements, nature's own gym and the soulful, humanitarian people that inhabit this Earth, Sundried is a lifestyle choice for those wishing to use their surroundings to physically progress and better themselves and in return, offer something back to communities and environments needing support.
10% of all purchases of Pulsin bars, powders and healthy treats over £20 using code APAR10
At Pulsin' we make natural protein bars, protein powders and healthy treats that are as good for you as they taste. Packed full of natural ingredients and organic goodness, our products are free from nasties, high in protein and low GI, making them perfect for the whole family.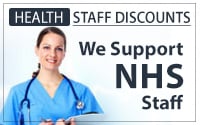 5% discount of all RedAlert PT services for all NHS workers